Wild Sablefish (Black Cod)
(6) 6oz portions (total weight 2.25lbs)
Individually Vacuum-Packed
Flash Frozen
Skin On / Boneless
Wild & Sustainably Caught in the USA
---
Description

Wild Sablefish is a delectable sweet white fish with a velvety texture and flaky flesh. Popular for being served in high-end restaurants, sablefish feels luxurious to eat while providing a host of nutrients. Other names for the fish include Butterfish and Black Cod.

Our sablefish is sustainably caught in the icy waters off the coast of Washington and Oregon, using sustainable fishing methods for a low environmental impact. The seafood is quickly processed and blast frozen to capture the sablefish's natural ocean-fresh flavor for you to enjoy.

Wild sablefish from Premier Catch is perfectly portioned into 6 ounce pieces, with the skin on and bones removed. Each butterfish portion is individually packed and vacuum sealed.

Wild sablefish is quick and easy to cook, despite its fancy reputation. This healthy fish can be pan-seared, broiled, or baked, and will be ready to eat in less than 30 minutes.
Serving Size

One 6 ounce butterfish fillet portion will feed 1 adult or 2 children. Each package contains 6 pieces of fish.
Storage & Preparation

How to store frozen sablefish: Our wild sablefish should be kept frozen until you are ready to cook it. It can be stored frozen for up to 12 months, but for best flavor and texture, use within 6 months of purchase.

How to thaw frozen sablefish: The safest way to thaw sablefish is under refrigeration. We recommend removing the fish from the original packaging, placing it on a plate, and allowing it to thaw in the refrigerator for 6-8 hours, or overnight.

For faster thawing, you may place the sealed portions in a bowl of very cold water for 30-45 minutes. Once thaw, remove the fish from the packaging, rinse gently with cool water, and pat the fish dry.

Once thaw, keep your wild sablefish refrigerated until you are ready to prepare it. We recommend consuming it within 2-3 days of thawing.

How to cook sablefish: Visit Premier Catch Kitchen for hundreds of delicious wild sablefish recipes and other seafood cooking directions!
Shipping

We offer free nationwide shipping on all of our seafood! To keep the cost and carbon footprint low, there is a $125 order minimum.

We ship seafood on Mondays and Tuesdays, with Wednesdays reserved for nearby delivery addresses. To ensure delivery the same week, please place your order by Tuesday at 10am PST.

Your seafood will be shipped via 2-Day Air or 1-3 Day Ground, depending on your location. All of our frozen seafood is shipped with dry ice in an eco-friendly, insulated box.
Nutrition

Our sablefish has 330 calories per 6 ounce serving. Each piece contains 23 grams of protein and is a great source of vitamin B12.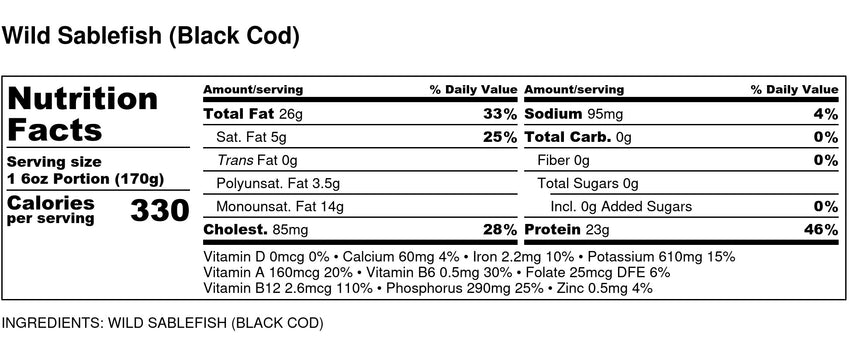 Our seafood is certified ocean-friendly and wild-caught in the USA.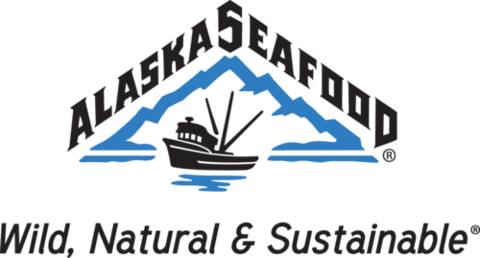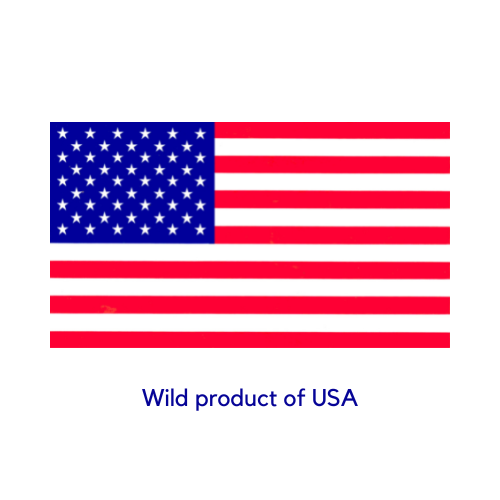 Customer Reviews
12/09/2023
Lacy B.

United States
Amazing
I am no chef and the black cod was so delicious that it tasted restaurant quality even when I made at home. Definitely going to reorder
11/11/2023
armand p.

United States
wild sablefish
excellent!! what a great tasting fish.lemon oil/chardonnay/butter with tuscan seasonings in a foil pac on the grill.
10/01/2023
armand p.

United States
Sablefish
First time having sablefish and it was exquisite, grilled up perfectly,will definitely order again.
09/28/2023
Paul Z.

United States
Great as always
Wonderful again
06/30/2023
Rachel H.

United States
Amazing
Always the most fresh and delicious fish!
06/15/2023
Franklin A.

United States
You get what you pay for.
Second time buying from Premier Catch. I bot 2, 5lb. portions of sablefish (black cod). Re: the fish. Portioned into ~6oz IQF, vacuum sealed portions. Sablefish has a row of pin bones that are not easily removed. Those are removed by Premier Catch, making them boneless. Easily thawed. Sablefish is super easy to cook. I marinate in miso for a couple days (or not) and bake (350°F for about 20min). Flakey, super healthy, hard to overcook. Re: delivery. Arrived in insulted box. My second order had a delivery (to Houston) issue (because of the shipper, not Premier Catch). That was resolved with a simple email that same day. Outstanding "customer service". I could get Sablefish from a "big box" grocer. It would be cheaper. IMO, you (generally) get what you pay for, and buying from Premier Catch is well worth the cost.
06/03/2023
Anthony Y.

United States
Not gonna give a bad review but we never got it
This is not your fault as the guy that dropped the box off put it on the side of our house and not the front door.
04/10/2023
Barbara D.

United States
My New Favorite
Love the sablefish!! I prepare it crusted with pistachios
03/31/2023
Sherri B.

United States
Wonderful taste and texture!
Excellent, will certainly buy again!
03/31/2023
Larry S.

United States
Wow! The freshest seafood conveniently packaged for the freezer.
I can't say enough about this product.
03/17/2023
LARRIE H.

United States
Outstanding!
Have been a professional chef for 30 years and can tell you both the Sable and the King Salmon were first rate. The shipment was also impressive . I will be back!
03/10/2023
Rachel H.

United States
Amazing
Fish defrosts easily and is always a crowd please. Can't get enough!
03/05/2023
Craig G.

United States
Excellent experience
The fish is great quality, but I am most impressed with the packaging. My order got delayed in shipping due to a storm and closed roads. The package arrived 5 days late and to my surprise the fish was still frozen. Great job packaging!
01/22/2023
Rachel H.

United States
Delicious
I wish I could have figured out when ordering when the fish would arrive. Other then that quality is amazing and a hit every time!
01/04/2023
Kat J.

United States
The perfect catch!
Fresh fish every time. Good communication and well packaged product.
12/09/2022
Ludmila B.

United States
My choice of fish
I am pleased to get the package in time. I didn't like halibut from the previous order, but I really like your king salmon. I didn't try thr black cod yet.