Miso Marinated Sablefish (Black Cod)
(1) 6oz portion of Wild Sablefish (Black Cod) pre-marinated in 2oz of Authentic Hikari Miso
Ready to Cook!
Individually Vacuum-Packed
Flash Frozen
Skin On / Boneless
Wild & Sustainably Caught in the USA
---
(offered as individual portions)
Description

Revel in the world of umami with our Premium Wild Sablefish Marinated in Hikari Miso. Each succulent bite is a testament to the union of premium seafood and artisanal Japanese tradition.

Wild Sablefish is a delectable sweet white fish with a velvety texture and flaky flesh. Popular for being served in high-end restaurants, sablefish feels luxurious to eat while providing a host of nutrients. Other names for the fish include Butterfish and Black Cod.

Our sablefish is sustainably caught in the icy waters off the coast of Washington, Oregon and Alaska, using sustainable fishing methods for a low environmental impact. The seafood is quickly processed and blast frozen to capture the sablefish's natural ocean-fresh flavor for you to enjoy.

Wild sablefish from Premier Catch is perfectly portioned into 6 ounce pieces, with the skin on and bones removed. Each portion is individually packed and vacuum sealed with 2 ounces of authentic Hikari Miso marinade.

Treat yourself to this culinary masterpiece today and discover the magic that happens when wild sablefish meets Hikari Miso. This traditional Japanese miso paste is renowned for its rich umami flavor and savory depth. Our expert chefs have handcrafted this marinade to perfection, ensuring that every bite of your sablefish is as delicious as if you were eating it in a five star restaurant.

Ingredients: Sablefish, Sugar, Soybean Paste (Water, Soybeans, Rice, Salt), Sweet Cooking Rice Wine, Alcohol, Water, Salt.

Contains: Fish, Soybeans
Serving Size

One 6 ounce portion of sablefish will feed 1 adult or 2 children.
Storage & Preparation

How to store frozen sablefish: Our wild black cod should be kept frozen until you are ready to cook it. It can be stored frozen for up to 12 months, but for best flavor and texture, use within 6 months of purchase.

How to thaw frozen sablefish: The safest way to thaw wild sablefish is under refrigeration. We recommend removing the fish from the original packaging, placing it on a plate, and allowing it to thaw in the refrigerator for 6-8 hours, or overnight.

For faster thawing, you may place the sealed portions of sablefish in a bowl of very cold water for 30-45 minutes. Once thaw, remove the fish from the packaging and prepare according to package instructions.

Once thaw, keep your wild sablefish refrigerated until you are ready to prepare it. We recommend consuming it within 2-3 days of thawing.

How to cook frozen sablefish: Visit Premier Catch Kitchen for hundreds of delicious recipes and other seafood cooking directions!
Cooking Instructions

Cooking Instructions: Remove from freezer and thaw in refrigerator overnight or up to 3 days. When ready to prepare, cut open packages and place the portions on a plate. Gently remove excess miso marinade (with a butter knife or small spatula) and dispose.

Preheat oven to 400° F. Heat a lightly oiled oven-safe skillet to med-high heat. Place fish, skin side up in skillet, for approx 2 min to give it a nice sear. Flip the fish, skin side down, and transfer the whole skillet to oven. Cook until fish reaches internal temp of 130-135° F, approx 15 min.
Shipping

We offer free nationwide shipping on all of our seafood! To keep the cost and carbon footprint low, there is a $125 order minimum.

We ship seafood on Mondays and Tuesdays, with Wednesdays reserved for nearby delivery addresses. To ensure delivery the same week, please place your order by Tuesday at 10am PST.

Your seafood will be shipped via 2-Day Air or 1-3 Day Ground, depending on your location. All of our frozen seafood is shipped with dry ice in an eco-friendly, insulated box.
Nutrition

Ingredients: Sablefish, Sugar, Soybean Paste (Water, Soybeans, Rice, Salt), Sweet Cooking Rice Wine, Alcohol, Water, Salt.

Contains: Fish, Soybeans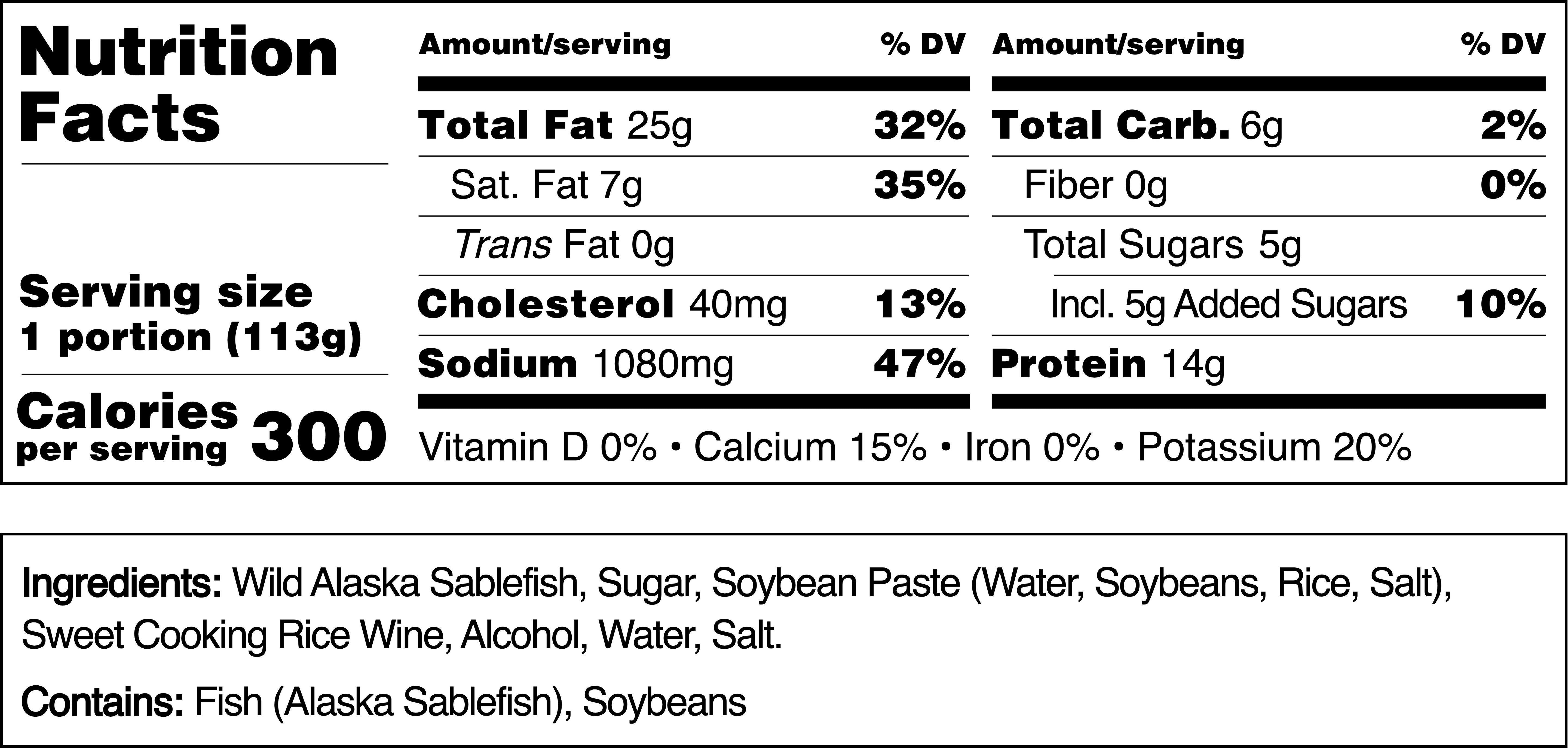 Our seafood is certified ocean-friendly and wild-caught in the USA.