Omega-3 Boost Bundle
(6) 8oz portions Wild Alaskan King Salmon (total weight 3lbs) 
(6) 6oz portions Wild Sablefish (total weight 2.25lbs)
(1) Omega-3 Index Basic Test Kit
Flash Frozen
Skin-on / Boneless
Wild & Sustainably Caught in the USA
---
---
Description

Strengthen your heart, sharpen your brain, and improve recovery with the Omega-3 Boost Box!

This specially focused bundle was created by Ashley Besecker, our co-founder and registered dietitian nutritionist, with longevity in mind. It includes 6 pieces of Wild Alaskan King Salmon (8 oz portions), 6 pieces of Wild Sablefish (6 oz portions), and 1 Omega-3 Test Kit.

Wild Alaskan King Salmon is the fattier, richer salmon and has the most omega-3's of any salmon species at almost 500 mg of omega-3's per oz.

Wild Sablefish is the secret winner of the omega-3 contest. This fish lives in the very deep, very cold valleys in the ocean and has a buttery rich flavor that has earned it the nickname "Butterfish" which you'll find listed on Hawaiian menus. Sablefish wins with over 500 mg of omega-3's per oz!

The Omega-3 Index is the gold standard test in the medical community for omega-3s and provides a very simple way to measure a very complex molecule. This at-home test measures the amount of EPA and DHA in the blood, specifically the red blood cell membranes. It is not affected by what you've eaten that day or even that week, but measures your omega-3s in a 3 month window; a perfect peek into your body's consistent ability to fight inflammation! The goal for heart health, brain health and longevity is 8-12%. What's your number? Measure quarterly to keep your health goals on track.

This bundle makes it easy to meet the American Heart Association recommendation of eating fish twice a week, making your cardiologist very happy. Get ready to accept a gold medal at your next appointment!
Serving Size

One 6-8 oz portion will feed 1 adult or 2 children.
Storage & Preparation

Storage: Seafood ordered from Premier Catch should be kept frozen until ready for preparation. Items can be stored frozen for up to 12 months, but are best if consumed within 6 months of purchase.

Thawing: The safest way to thaw your fish is under refrigeration. We recommend removing the product from the original packaging, placing it in a plastic bag or on a plate, and allowing it to thaw in the refrigerator for 6-8 hours, or overnight.

If you require faster thawing, we recommend placing the vacuum-sealed portions in a bowl of COLD water for 30-45 minutes. Once thaw, remove from the packaging, rinse gently with cool water and pat dry.

Keep refrigerated until serving or preparing. We recommend consuming within 2-3 days of thawing.

Cooking: Please visit our Premier Catch Kitchen to browse over 100 seafood recipes!
Shipping

We offer free nationwide shipping on all of our seafood! To keep the cost and carbon footprint low, there is a $125 order minimum.

We ship seafood on Mondays and Tuesdays, with Wednesdays reserved for nearby delivery addresses. To ensure delivery the same week, please place your order by Tuesday at 10am PST.

Your seafood will be shipped via 2-Day Air or 1-3 Day Ground, depending on your location. All of our frozen seafood is shipped with dry ice in an eco-friendly, insulated box.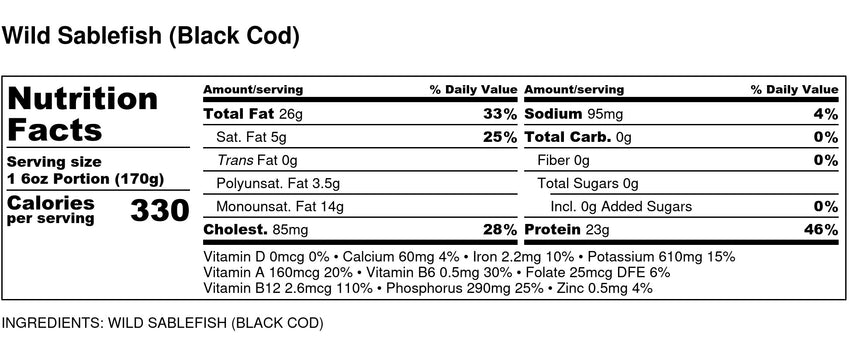 Our seafood is certified ocean-friendly and wild-caught in the USA.