Wild White Fish Bundle
(6) 8oz Portions Wild Pacific Halibut (total weight 3lbs)
(6) 6oz Portions Wild Sablefish (Black Cod) (total weight 2.25lbs)
(6) 6oz Portions Wild Alaska Cod (total weight 3lbs)
Individually vacuum-packed, flash frozen, boneless. Always wild and sustainably caught in the USA.
---
---
Description

Embark on a culinary voyage through the pristine waters of Alaska and the Pacific Northwest with our Wild White Fish Bundle. This bundle brings together a triumphant trio of white fish varieties, responsibly sourced from the icy waters of the Pacific Ocean.

(6) 8oz portions Wild Pacific Halibut: Sustainably caught in the frigid Alaskan waters using the longline fishing technique for low environmental impact, our Wild-caught Pacific Halibut is a tasty white fish with a mildly sweet flavor and firm, flaky meat. High in protein and packed with vitamins and minerals, our Pacific Halibut is a great source of omega-3 fatty acids.

(6) 6oz portions Wild Sablefish: Sustainably caught in the icy waters off the coast of Washington and Oregon coast, our Wild Sablefish feels luxurious to eat while providing a host of nutrients. This sweet, white fish has a velvety texture and flaky flesh and is often featured in high-end restaurants.

(6) 6oz portions Wild Alaska Cod: Sustainably caught in the icy waters of the Bering Sea and Gulf of Alaska using the hook and line fishing method for low environmental impact, our Alaska Cod is a delicious mild white fish with ocean-fresh flavor and flaky, firm flesh. Best known for fish and chips, cod is low in fat and high in protein.
Serving Size

One 6-8 oz portion will feed 1 adult or 2 children.
Storage & Preparation

Storage: Seafood ordered from Premier Catch should be kept frozen until ready for preparation. Items can be stored frozen for up to 12 months, but are best if consumed within 6 months of purchase.

Thawing: The safest way to thaw your fish is under refrigeration. We recommend removing the product from the original packaging, placing it in a plastic bag or on a plate, and allowing it to thaw in the refrigerator for 6-8 hours, or overnight.

If you require faster thawing, we recommend placing the vacuum-sealed portions in a bowl of COLD water for 30-45 minutes. Once thaw, remove from the packaging, rinse gently with cool water and pat dry.

Keep refrigerated until serving or preparing. We recommend consuming within 2-3 days of thawing.

Cooking: Please visit our Premier Catch Kitchen to browse over 100 seafood recipes!
Shipping

We offer free nationwide shipping on all of our seafood! To keep the cost and carbon footprint low, there is a $125 order minimum.

We ship seafood on Mondays and Tuesdays, with Wednesdays reserved for nearby delivery addresses. To ensure delivery the same week, please place your order by Tuesday at 10am PST.

Your seafood will be shipped via 2-Day Air or 1-3 Day Ground, depending on your location. All of our frozen seafood is shipped with dry ice in an eco-friendly, insulated box.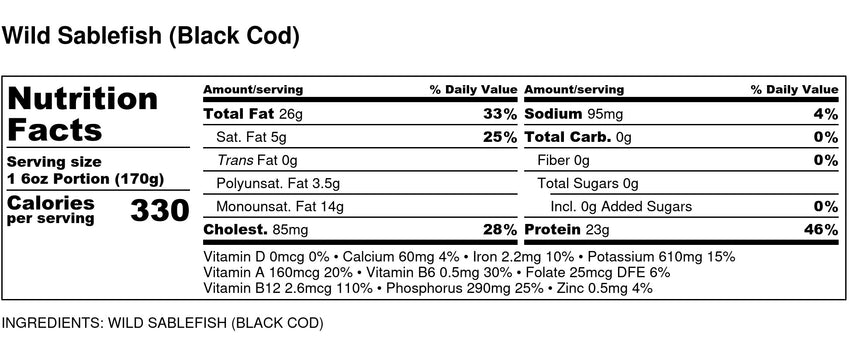 Our seafood is certified ocean-friendly and wild-caught in the USA.