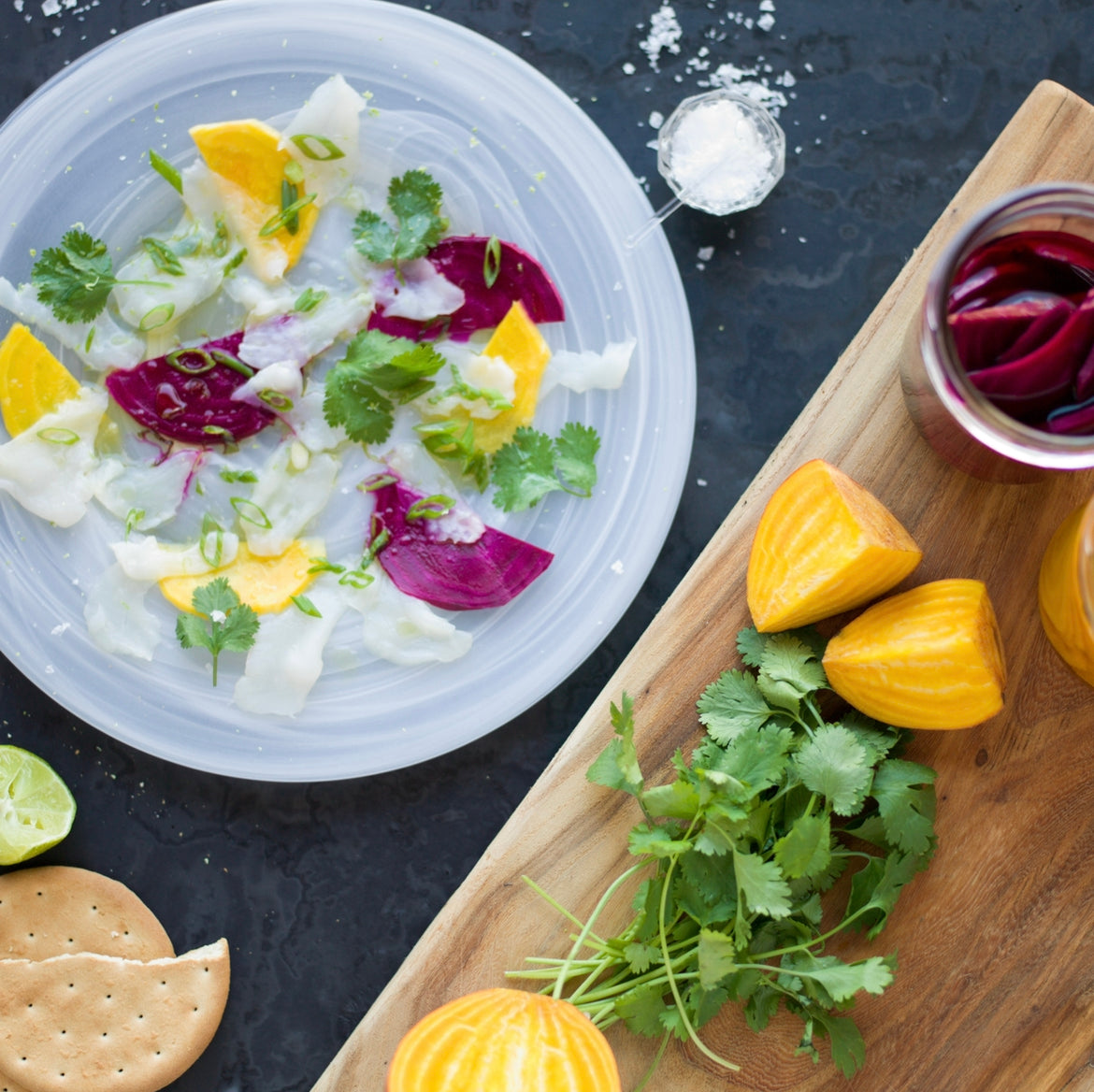 Clean and Simple Meals between Holiday Feasts
Thanksgiving is a wonderful meal of indulgence with turkey, potatoes, and pie. But if you are as stuffed as we are after your Thanksgiving feast, you may be looking for some lighter, simpler dishes sprinkled in between holiday festivities!

Seafood is naturally light in texture and flavors and packs a nutritional punch, making it the perfect protein to mix in during the holidays. Paired with veggies and whole-grains, such as brown rice, it can be a nutrition packed meal that feels light and bright!

1. Citrus Salmon Winter Salad

This new recipe is the perfect mix of bright, refreshing flavors but warm and comforting with roasted kale and salmon. With one sheet pan and one bowl, this recipe requires minimal dishes too!

2. Nobu Inspired Miso-Marinated Black Cod
Sablefish (a.k.a Black Cod) is one of the healthiest fish you can eat for its omega-3 fatty acid content. Nobu Inspired Miso Black Cod is a Premier Catch favorite and worldwide phenomenon for its buttery texture and melt-in-your-mouth flavor.

3. Salmon and Veggie Omelet

This recipe is simple and healthy but so flavorful and satisfying. With eggs, veggies, and salmon, this omelet is balanced and highly nutritious.

4. Greek Salmon Bowl

With Mediterranean flavors of tzatziki, pickled onions, olives, and a garlic seasoned salmon, this recipe is as flavorful as it is good for you.

5. Spicy Tuna & Avocado Sushi Bites
Tuna is naturally lower in calories but high in protein, vitamins, and minerals. This simple, no-cook recipe is both delicious and easy to make.

6. Halibut Chimichurri

Chimichurri is excellent paired with the mild flavor and texture of halibut. It's a simple yet impressive recipe and the chimichurri sauce can be saved for other recipes.

7. Seared Scallops with Miso-Corn Salad

This recipe is full of flavor and the seared scallops are melt-in-your-mouth delicious. You can opt for grilled corn, frozen, or from a can (just rinse off a bit of the salt in a colander if you go with the canned option!)

8. Wild Oregon Shrimp Salad
This recipe went viral on TikTok this year, dubbed as Jennifer Anniston's favorite salad! We elevated it with our Wild Oregon Shrimp. It is clean and healthy with delicious flavors from fresh lemon juice, feta cheese, pistachios, and red onion.

9. Albacore Tuna Curry Lettuce Wrap

This is the perfect quick and healthy lunch! With five ingredients, these tuna lettuce wraps are ready in less than 5 minutes.

10. Simple Salmon Chowder

Warm and comforting, this salmon chowder is ready in minutes and so satisfying. It is a great recipe to make ahead and enjoy for lunches and dinners throughout the week.

For more recipes and nutrition inspiration, check out the Premier Catch Recipe Blog and be sure to tag us on instagram @premiercatch! If you have any go-to healthy recipes, be sure to send them to us at info@premiercatch.com.