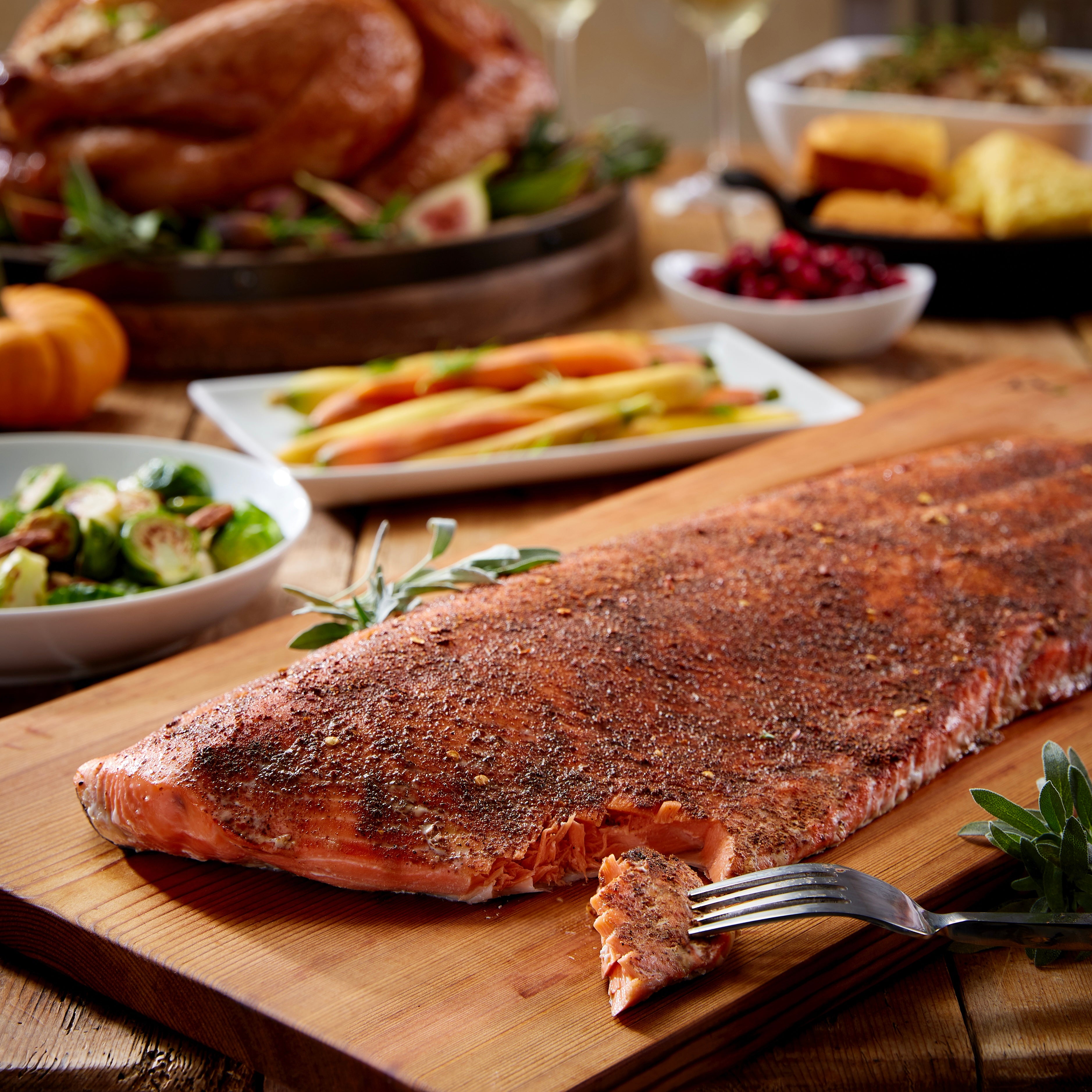 10 Ways to Incorporate Seafood into Your Thanksgiving Celebration
Looking for ways to incorporate seafood in your thanksgiving celebration? We've got you covered!  Below are 10 of our favorite seafood recipes that pair perfectly with a classic Thanksgiving feast but don't worry, Turkey is still center stage for this holiday!
The phyllo-wrapped, baked brie is a delicious and decadent holiday dish, sure to impress your family and friends. With crab and mixed vegetables, it's flavorful and the combination of the melted cheese and crispy crust is crave-worthy. 
These Bacon Wrapped Scallops are surprisingly quick and easy to make and tastes like candy! With crispy bacon, tender scallops, and a sweet glaze, this dish is the perfect combination of savory and sweet. 
Premier Catch's take on the viral "butter board," this is the perfect appetizer for your holiday celebration. It takes less than 5 minutes to assemble and requires just 7 simple ingredients.
4. Crab Dip
Mama B's Crab Dip is a Besecker family favorite and crowd favorite! It's warm, creamy, and simple to prepare.

With just six ingredients, these Salmon Puff Pastry Bites are quick to prepare and the perfect appetizer for a holiday meal. 
6. Dungeness Crab Deviled Eggs
This Deviled Eggs recipe comes from a Premier Catch cooking class at Whisk.    They are rich and extra delicious with fresh Dungeness Crab meat. They will be gone in minutes! 
7. Premier Catch "Naughty" Bread
This is a family recipe from Joci's side, originally known as "Pentacle Bread," renamed "Naughty Bread" by her cousin Brent in recent years. This is indulgent and naughty and delicious with a Thanksgiving feast!
8. Cobb Salad
For a healthy and fresh addition to your celebrations, try Joci's cobb salad. With salmon, bacon, and egg, it's packed with flavor and nutrients. 
9. Crab Stuffed Jalapeno Poppers Wrapped in Bacon
These poppers are craveworthy! With creamy crab, salty bacon, and a touch of spice from the jalapeño, these poppers are full of flavor. They make an excellent holiday appetizer.
10. Premier Catch Gravlax Appetizer
Simple and delicious, this dish can be made with smoked salmon, cooked salmon, or gravlax. It's ready in less than 10 minutes and only requires 7 ingredients. 


We hope you have a great Thanksgiving holiday with delicious food and good company! 
For more recipes and cooking tips, checkout the Premier Catch Recipe Blog. And let us know which recipes you try by tagging us @premiercatch on social media or sending us a message at info@premiercatch.com!
Photo Credit: Alaska Seafood