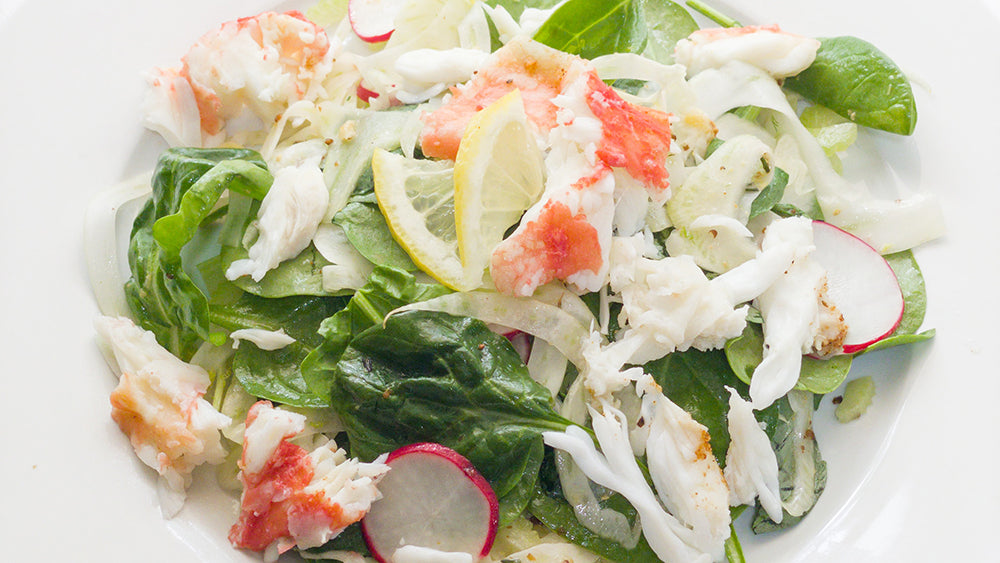 How to Make a Seafood Salad
Seafood salad has been a staple in delis and on salad bars for decades. There are so many different types of seafood salads and ways to prepare them. These salads can be served as a side dish or even as the main course. A mix of different fresh vegetables and fish, they are usually quick and easy to make and are much better than the pre-packaged ones you buy at the grocery store.
Seafood salads frequently include tuna, shrimp, salmon, cod, or scallops, and are added to common mixes like cobb or caesar salads.
3 Different Types of Seafood Salad
Other than the classic seafood salad, there are other ways to add seafood to a bed of greens. Like any salad, you can substitute the meat for your favorite fish like salmon or cod.
Tuna Salad
When you think of tuna salad, you might think of the dish that contains an abundance of mayo, sometimes including celery and other vegetables. With this salad, the tuna sits on top of leafy greens, complemented by hard boiled eggs, potatoes, green beans, tomatoes, green wolves, and red onions. 
Shrimp Salad
This shrimp salad was made popular by TikTok and Jennifer Anniston. It's an easy-to-make recipe, fresh and full of flavor. It includes shrimp, quinoa/couscous, cucumbers, red onion, chickpeas, parsley, pistachios, and feta cheese.
Seafood Pasta Salad
Seafood pasta salad is a great summer dish made for fish lovers. It can be made with elbow noodles, big chunks of crab meat and shrimp, hard boiled eggs, celery, green onions, and a creamy dressing. It can be a side dish or a main course.
Classic Seafood Salad Recipe
Making seafood salad is very simple. For this recipe, all you need is crab meat, shrimp, red onion, celery, mayonnaise, lemon juice, old bay seasoning, dill, and a dash of salt and pepper.
First, you'll mix together the main ingredients, which are crab meat, shrimp, onion, and celery. Then you'll mix the dressing ingredients separately: mayonnaise, lemon juice, old bay seasoning, dill, salt, and pepper. The last step is to combine both the main ingredients and the dressing.
Where to Purchase Seafood for Salads
A classic seafood salad is also commonly referred to as a crab salad since this is one of the main ingredients. Many recipes will call for imitation crab, but making your seafood salad with fresh, wild-caught seafood captures the true flavor and is healthier for you and your family. Not only is wild-caught fish the best way to improve heart health, boost brain function, and decrease inflammation, but imitation crab is made with preservatives and additives like gums, red colorants, and glutamates.
At Premier Catch, we offer customers access to sustainably harvested seafood, carrying the fish you might be looking to add to your seafood salads like:
Shop our sustainable, wild seafood to find the ingredients you'll want to include in your seafood salad.