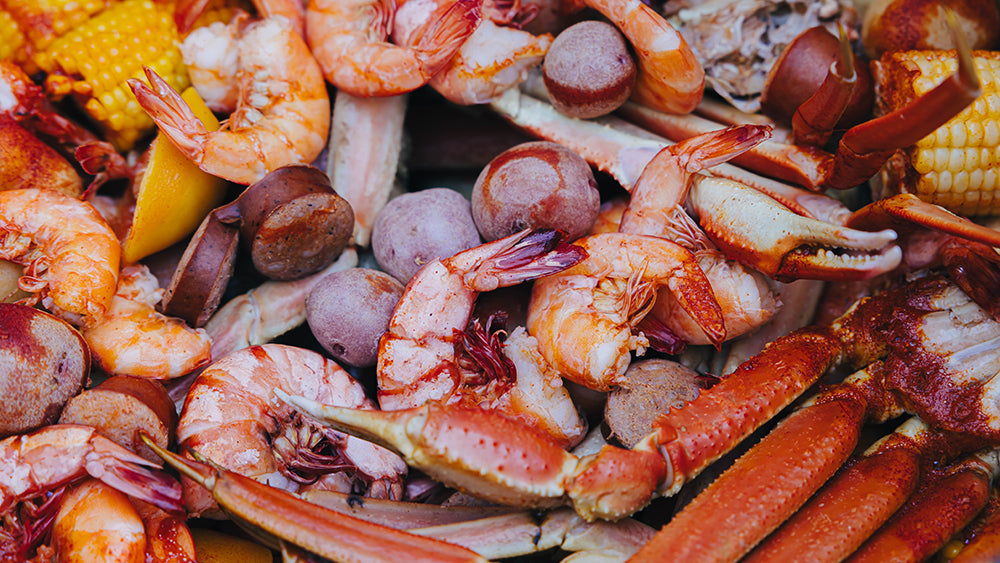 How to Make a Seafood Boil
A seafood boil is a perfect dish to serve the seafood lovers in your life. It is ideal for serving a big group of people, and it's an easy cleanup. Full of fresh shellfish and loaded with tons of flavor, it's also a great way to make lobster, crab, shrimp, and scallops stretch further when combined with veggies like corn and potatoes.
Seafood boils are known for having a mix of various shellfish and vegetables. Most recipes contain shrimp, crab, sausage, potatoes, corn, and clams. They will also season with bay seasoning, cajun seasoning, wine, garlic, and butter. Every family seems to have their own secret sauce!
5 Tips for Making a Seafood Boil
There are many different types of seafood boils from a little bit seasoned to knock-your-socks-off spicy. Here are our top 5 tips for making a seafood boil:
We prefer fresh corn on the cob over canned. You can use white, yellow, or multi-colored corn.

We like using Yukon gold potatoes or red potatoes.

If you want to add a little spice to your seafood boil, Andouille sausage can help add that heat!

The list of seafood included in most recipes is just a suggestion. You can use other shellfish and seafood like mussels, scallops, or even chunks of firmer fish like halibut and cod.

We recommend serving your boil immediately as it will taste better when freshly cooked.
What to Serve with Seafood Boil
With all the flavors and variety of fish in a seafood boil, it can be served as-is. Some people prefer to add more side dishes to really round out the meal. You can pair it with a green salad, coleslaw, or a mix of sauteed greens. You can also pair it with french, sourdough, or garlic bread to soak in the juices at the bottom of the bowl!
Standard Seafood Boil Recipe
To start, you'll want to gather Old Bay seasoning, garlic, onion, potatoes, corn, crab legs, clams, smoked sausage, shrimp, butter, and lemons. As we mentioned before, you can always add or subtract different ingredients within the recipe. This includes adding other shellfish of choice, and spicing it up with cajun seasoning. To serve around 6 people, you'll want a total of 3-4 pounds of fish, 1 pound of sausage, 1 pound of potatoes, and 4 ears of corn.
You'll want to fill a large pot of water with upwards of 16 cups, adding the lemons, Old Bay seasoning, garlic, and onion. Once you bring that to a boil, you'll add the potatoes to the pot and let that cook for 8-10 minutes.
Next will be the fish,you'll want to add that first for about 5 minutes. Then, you'll add any clams, mussels, crab, and corn, cooking for 5 minutes. The last ingredients you'll add will be the shrimp and sausage, which will cook for 2-3 minutes.
After all the ingredients have been added, you'll drain the mixture but reserve 1 cup of the broth. You'll mix the broth with melted butter and pour over the seafood mixture.
For a bit more flair, we've seen really fun ingredient adds such as sun dried tomatoes, ranch seasoning, chili garlic paste, cajun seasoning blends like Tony Chachere's, Zatarain's, Louisiana Crawfish, and Old Bay even has a "hot" version of it's original blend! Be creative and get messy!
Where to Purchase Fresh Seafood
To perfect your seafood boil, cooking with fresh, wild-caught seafood captures the flavor of the shellfish and is a healthy choice for you and your family. Using wild-caught fish and shellfish in your diet is the best way to improve heart health, boost brain function, and decrease inflammation. 
At Premier Catch, we connect you directly to sustainably harvested seafood. We carry the shellfish and fish you may be looking to add to your seafood boil including:
Shop our sustainable, wild seafood to find the ingredients you'll want to include in your next seafood boil!