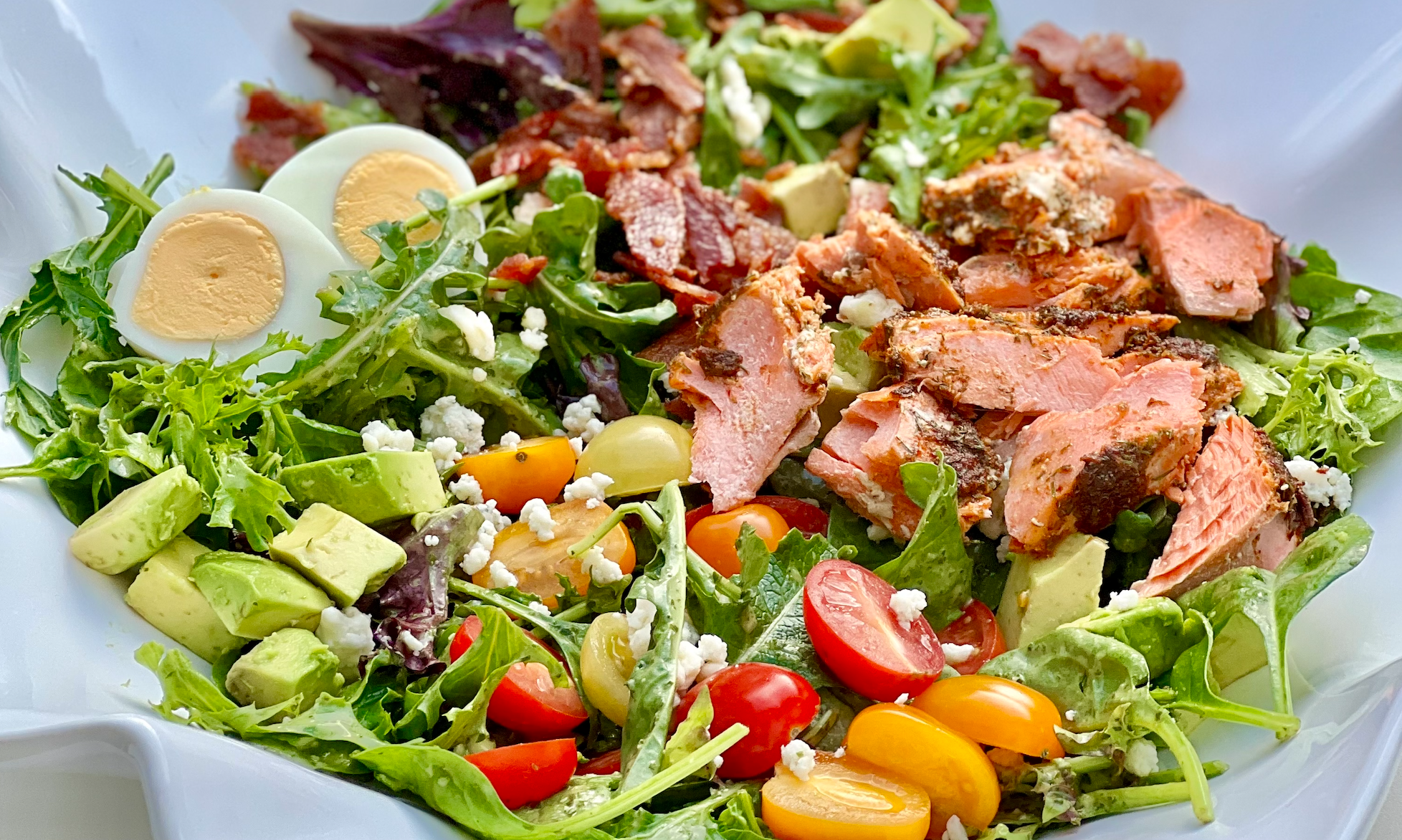 Eat Colorfully, Eat Sustainably: Seafood & Vegetable Recipes
Combining seafood and plants is the most environmentally friendly and sustainable way to eat. The harvesting methods of seafood and plants emits the least amount of carbon emissions into the air and the combination is better than eating a solely pescatarian or solely plant-based diet.
Here are some of our favorite recipes that combine seafood and vegetables for colorful, sustainable, and delicious meals!
Our Salmon Superfood Bowl is full of healthy vegetables, spiced salmon, and a creamy sriracha sauce. With broccoli, avocado, and salmon, this is a heart-healthy, immune-boosting meal. 
This Mexican Street Corn Salad tastes as good as it is good for your health. Corn includes many nutritional benefits including being a rich source of vitamin C, an antioxidant, and great for heart health. 
Joci's Cobb salad is a fresh and satisfying recipe. With cherry tomatoes, avocado, blue cheese, hard boiled egg, bacon, and salmon, this is so much more than a side salad.
4. Summer Rolls with Bay Shrimp
With bay shrimp and fresh vegetables, these spring rolls make a high-protein snack or light lunch. The filling possibilities are endless! 
5. Tuna with Mama Lil's Peppers 
Mama Lil's Peppers give this tuna salad a sweet and spicy kick! This recipe is mayo-free, packed with protein, and full of fresh vegetables. 
6. Butter Poached Spot Prawns Louis Salad from the Whisk Cooking Class
This Spot Prawn Louis Salad recipe is from the Premier Catch cooking class at Whisk in July. It is made with butter lettuce, snap peas, avocado, radish, and a homemade mustard vinaigrette.
7. Salmon Bacon Avocado Caesar Salad Wrap
This is a creative and crave-worthy take on the 'Classic Caesar Salad Wrap,' inspired by Half Baked Harvest. With crumbled bacon, blue cheese, salmon and pesto, it is flavorful and packed with protein.
If you have more seafood + plants recipes or ideas, we would love to check them out so please send them our way! And be sure to follow us on instagram and facebook @premiercatch for more recipes.