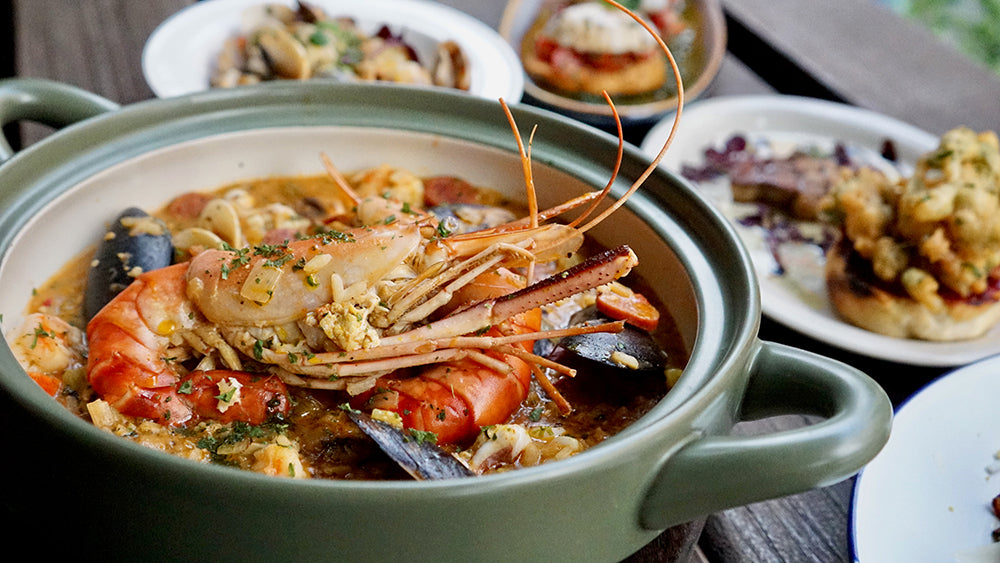 How to Make Seafood Gumbo
Seafood gumbo is a well-known comfort food-style recipe that contains a lot of fresh seafood, produce, and ingredients. While making a big pot of gumbo can take some time, it lasts for multiple days and gets better with time—perfect for lazy days at home! The most time-consuming and important part is making the roux, which might take some practice, but after that, you'll be ready to cook.
Seafood gumbo is one dish that is a staple to Louisiana cuisine, featuring shrimp, chicken broth, andouille sausage, onions, green bell peppers, and celery. Its seasoning is also a staple, full of garlic, thyme, Worcestershire sauce, and lots of Cajun seasoning.
How to Make the Roux in Seafood Gumbo
Roux is made with two simple ingredients: flour and oil. While simple, it is the key to any great seafood gumbo recipe. You cook the flour and oil together in a large pot, stirring constantly for about 30-45 minutes until it becomes a dark brown like chocolate with the consistency of dough. It's important to stir it at this temp so it doesn't burn.
The roux adds a deep, rich flavor to the gumbo and also helps give it a thick texture. While it might take a bit of time, it pays off and can always be done ahead of time. The darker the roux, the richer the flavor!
What to Serve with Seafood Gumbo
Seafood gumbo is rich and extremely flavorful, especially between the roux and Cajun seasonings. Traditionally, seafood gumbo is served with white rice which makes an excellent combo. Cornbread and hush puppies are also staples in Southern cuisine (side note: when Ashley did her residency in Nashville, she learned that hush puppies were not in fact referring to loafers). The sweet, crumbly pastries give a great contrast to the richness of gumbo and serve as a sponge to soak up the soup. Another option to round the dish is to serve it with a potato or macaroni salad.
Authentic Seafood Gumbo Recipe
The first step to making seafood gumbo is to make the roux, whether that's beforehand or same-day. In a large pot, you'll combine the flour and oil, cooking and stirring constantly on medium-low heat for 30-45 minutes.
Next, prepare your veggies. Chop up the celery, onions, bell pepper, and parsley. Some people will add okra, which you can throw in with the rest of the vegetables. In a large pot, you'll add the chicken broth, veggies, parsley, and roux. Stir well and skim off any form that may rise to the top of the pot. Stir in cajun seasoning to taste.
In a large, hot skillet, you'll spread the andouille sausage in a single layer. Let them cook and flip them over individually until both sides are nice and brown. Once the sausage is browned, you'll add it into the pot with the roux and veggies along with the chicken and shrimp. Taste-test your gumbo and add more seasonings to your liking, whether that be salt, pepper, chicken bouillon paste, garlic, or more chicken broth. 
Where to Purchase Fresh Seafood
To make the most authentic seafood gumbo recipe, cooking with fresh and flash-frozen, wild-caught seafood can perfect the taste, bringing out the flavor of the shellfish. Using wild-caught fish and shellfish in your diet is also a healthy choice for your family as it comes with benefits to improving your heart health, boosting brain function, and decreasing inflammation.
At Premier Catch, you have direct access to sustainably harvested seafood to use in your seafood gumbo. We carry shellfish and fish you may be looking to add to your gumbo, including Wild Oregon Shrimp and Dungeness Crab.
Shop our sustainable, wild seafood to find the ingredients you'll want to include in your next batch of seafood gumbo!