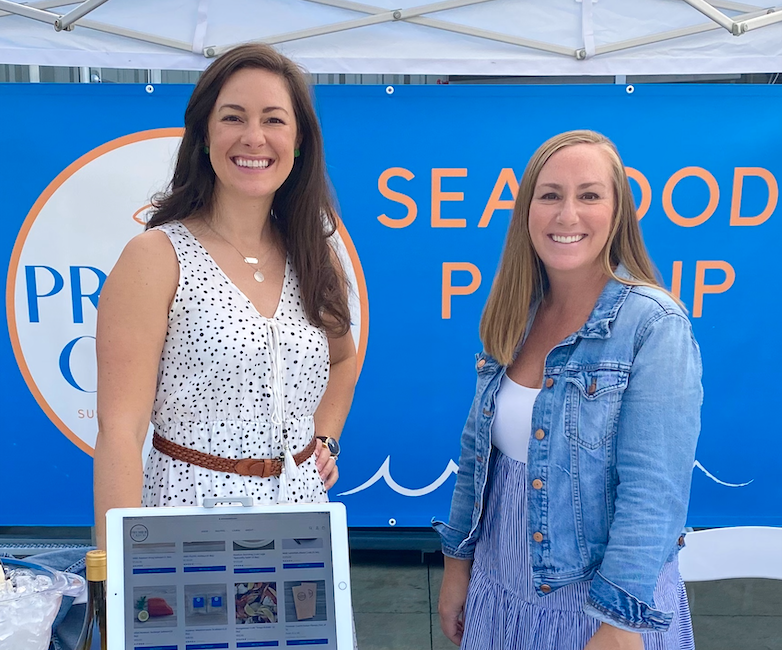 Celebrating Women's History Month!
As a female founded business, the Premier Catch team wanted to take time to recognize the beginning of Women's History Month by sharing the history of the holiday and the significance of the holiday today.
Premier Catch Founding Story:
Premier Catch was founded by sisters-in-law, Joci and Ashley, who married into the seafood industry. Their spouses, Jeff and Tyler Besecker, are the sons of Dana and Jill Besecker, the owners of the Dana F. Besecker Company. Dana started his one-man company in the 1980s, growing it into a leading global wholesaler and processor, selling wild seafood to over 54 countries. The Dana F. Besecker Company never sold seafood directly to consumers so when COVID-19 hit, Joci and Ashely decided it was the perfect opportunity to share this amazing resource and hence, Premier Catch was founded. Sadly, Dana passed away in 2022 but left behind a great legacy built on honesty, transparency and integrity. Joci and Ashley are honored to uphold his high standards and share the premium, wild seafood his relationships give them access to.
Joci and Ashley fell into their roles effortlessly when creating Premier Catch. Joci is their CEO and oversees the daily operations of Premier Catch. She uses her skills to ensure that Premier Catch can scale to meet customer needs across the U.S. while keeping the wholesome family culture intact that makes Premier Catch unique.
Ashley is their Director of Health and Nutrition, author of our Seafood & Nutrition blog and sits on numerous seafood boards and sustainability organizations across the nation. Ashley is a registered dietitian nutritionist, certified dietitian, and nutrigenomics specialist, after completing her studies at Pepperdine, Vanderbilt and Stanford. She currently works with 20+ professional athletes around the world. Ashley is passionate about sharing the science of nutrition for longevity and how omega-3's are key to a long, healthy and happy life.
Premier Catch Team:
Supporting the Premier Catch business are Shannon, Sarah, and Declan. ​​
Shannon is our Marketing Director and is responsible for managing our monthly marketing campaigns. She organizes marketing themes and promotions, plans the editorial content for newsletters and produces email campaigns and related digital communications for Premier Catch. 
Sarah is our Community Engagement Manager and helps us respond to customers, book new locations for our pop-up shops, and generally engage Premier Catch within the local community. If you contact us through social media or via phone, you will find Sarah on the other end happy to answer any questions about our products and services. Joci and Sarah have been friends for over 22 years and share a similar drive and passion for detail and getting things done right.
Declan is our recipe development lead, creating healthy and delicious seafood recipes for the Premier Catch Kitchen Blog. She also supports Joci in social media marketing.  
Ashley and Joci are proud to be female founders and business owners and grateful to have a team of strong women working alongside them!
History of Women's History Month: 
The month of March is designated as Women's History Month to celebrate women's contributions to history, culture, and society. The origins of Women's History Month can be traced back to International Women's Day, which was first celebrated on March 8th, 1911. The holiday is currently observed in the United States, United Kingdom, and Australia. 
Women's History Month began as "Women's History Week" in 1978 when the Education Task Force of the Sonoma County (California) Commission on the Status of Women initiated the celebration. The week was chosen to coincide with International Women's Day, which falls on March 8th. The aim of the holiday was to educate the public about women's historical achievements and to promote women's rights.
Fast forward to 1980 and President Jimmy Carter issued the first Presidential Proclamation declaring the week of March 8th as National Women's History Week. In 1987, Congress passed a resolution designating March as Women's History Month, and since then, every year the President issues a proclamation to recognize and celebrate the contributions of women to American history and society
Significance of the Holiday Today:
The significance of Women's History Month today is to recognize and celebrate the countless ways in which women have contributed to the social, economic, cultural, and political development of our societies. It is an opportunity to raise awareness about the struggles and achievements of women throughout history, and to acknowledge the ongoing fight for gender equality. It is also a time to highlight the many challenges that women continue to face, including gender-based violence, discrimination, and unequal access to opportunities and resources. 
By celebrating Women's History Month, we can honor the legacy of the women who have come before us, inspire future generations of women, and work towards a more just and equitable world! At Premier Catch, we are proud to celebrate and be included in celebrations of Women's History Month.