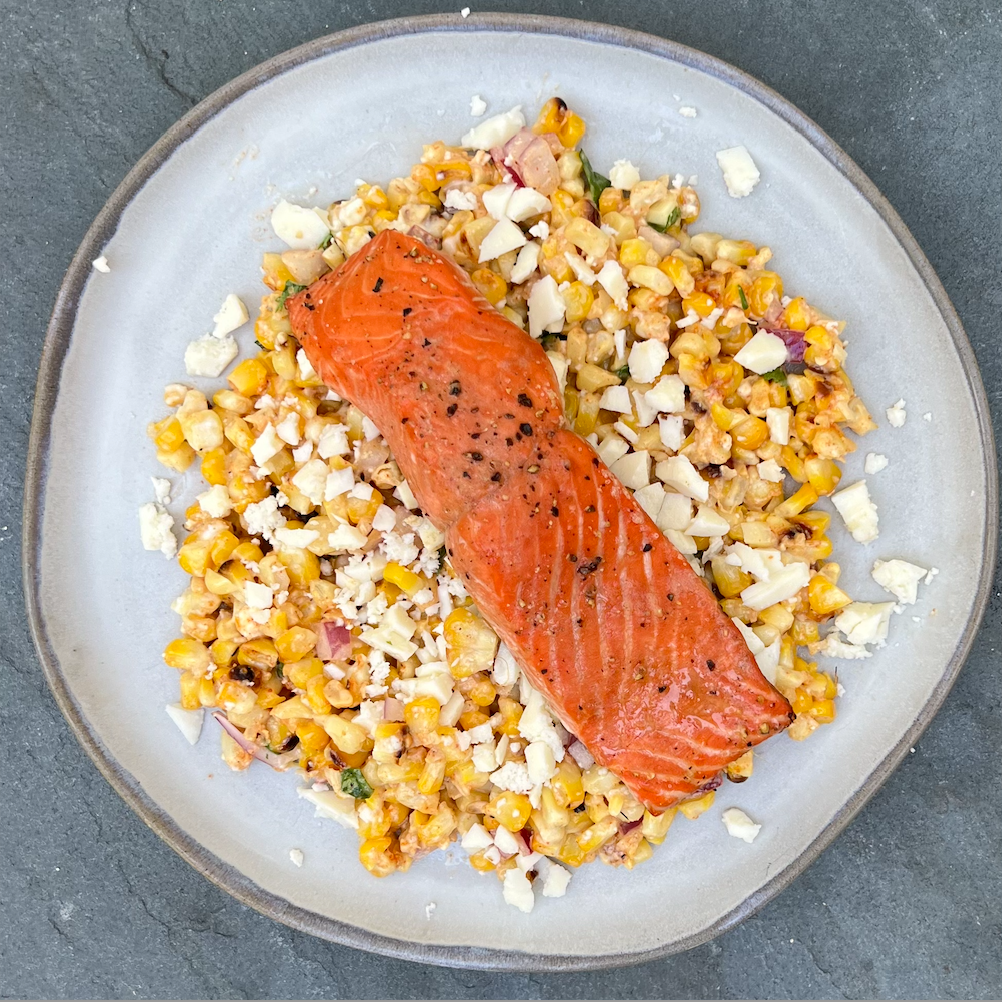 Grilled Seafood and Corn Salad: Sweet and Savory Summer Side Dish
Summer is the perfect season to indulge in fresh seafood and bright, fresh produce and combining the two makes the perfect summer dinner! Corn is a summer staple and pairs perfectly with grilled seafood. Some of our favorite seafood recipes featuring fresh corn are 1. Seared Scallops with Miso-Corn Salad 2. Mexican Street Corn Salad with Grilled Corn and 3. Grilled Elote Corn. These sweet and savory dishes are not only delicious but packed with nutrients and protein! 
1. Seared Scallops with Miso Corn Salad
This recipe is full of flavor, fresh ingredients, and clean protein! It makes a delicious summer dinner with little prep or cleanup.
To make our Seared Scallops with Miso-Corn Salad, you will need Alaska Weathervane Scallops, olive oil, fresh arugula, 3 ears of shucked corn, scallions, edamame, cherry tomatoes, and basil or mint. To make the miso dressing, you will need white miso paste, soy sauce, rice wine vinegar, lime juice, sesame oil, brown sugar, ginger, jalapeno, and olive oil. 
Alaska Weathervane Scallops are a very versatile seafood and can be cooked in a skillet, on the grill, in the oven, or in the air fryer! They cook quickly and only need to be grilled or seared for about 2 minutes per side. 
2. Mexican Street Corn Salad with Grilled Salmon 
This Mexican Street Corn Salad with Grilled Salmon is another incredible summer recipe! This makes for a quick and delicious dinner and a great option for a make-ahead lunch to store in the fridge. 
To make the grilled salmon, you just need three simple ingredients! Wild Alaskan Sockeye Salmon, coconut aminos, salt and pepper. We recommend grilling sockeye salmon for 3 to 4 minutes per side as it will continue to cook after being removed from the heat. 
For the Mexican street corn salad,  you will need 6 ears of grilled sweet corn, light mayo, feta cheese, cilantro, red onion, lime juice, minced garlic, chili powder, paprika, salt, and pepper. To serve it, simply add the grilled salmon to the corn salad and enjoy! 
3. Grilled Elote Street Corn 
Grilled Elote Street Corn makes a delicious side dish and pairs well with all of our seafood!  To make this dish, you only need 7 ingredients and about 15 minutes. Start by preheating the grill to 400 degrees. Brush the corn with olive oil and grill for 4 minutes per side. In a small bowl, combine mayonnaise, seasonings, and the juice of half a lime. With a brush or spoon, coat each ear of corn with the mayonnaise mixture. Crumble cojita cheese over the top and squeeze a little extra lime. 
We recommend serving this with grilled salmon, halibut, scallops, or prawns! The options are endless! 
Not only is corn and seafood a delicious combination, it is also full of health benefits. Seafood is an excellent source of protein, omega-3 fatty acids, and a variety of vitamins and minerals. Corn is packed with nutrients, including fiber, vitamin C, and potassium. 
Whether you are hosting friends and family or cooking a quick dinner, these recipes are sure to impress you and your guests. So it's time to fire up the grill and get ready to enjoy the best of summer's bounty!