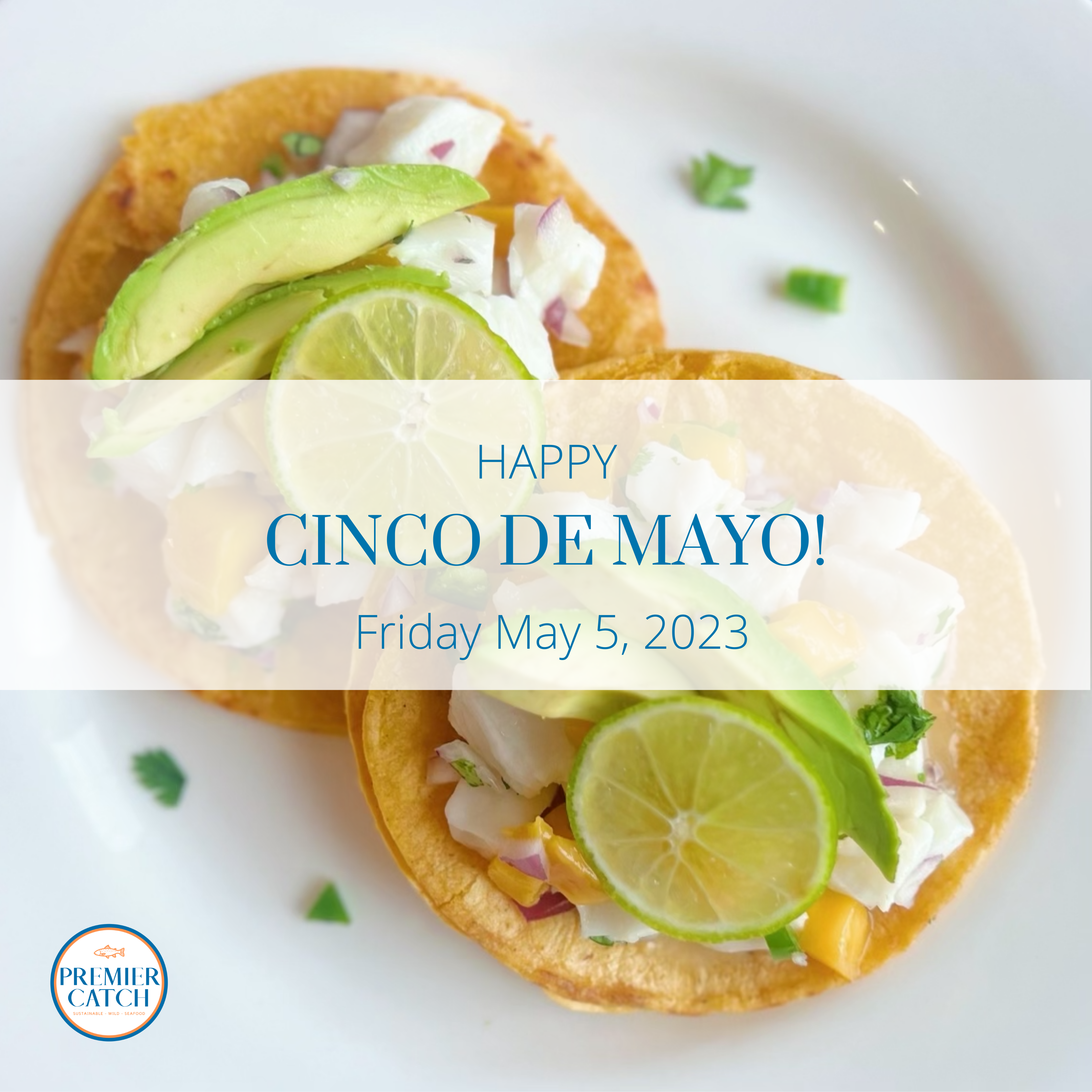 Celebrate Cinco de Mayo with Wild Seafood
Celebrated every year on May 5th, Cinco de Mayo is one of our favorite spring holidays! 
Not only is Cinco de Mayo an excellent occasion to enjoy tacos and margaritas, the holiday commemorates the Mexican Army's victory over the French in the Battle of Puebla on May 5th, 1862. Despite not being widely celebrated in Mexico, Cinco de Mayo is very popular in the U.S., especially among Mexican-American communities. 
Our favorite way to celebrate Cinco de Mayo is enjoying delicious seafood and making homemade margaritas. Fish Tacos and Tostadas are two classic Mexican dishes that are perfect for any Cinco de Mayo celebration! Here are some easy and delicious recipes that you can add to your festivities:
1. Salmon Tacos
This salmon taco is our new favorite. They are simple and clean but melt-in-your-mouth delicious. 
Sheet Pan Halibut Tacos make the perfect, quick and easy dinner with only 4 ingredients. We like to top them with cabbage, fresh sliced avocados, onion salsa, taco sauce, and cotija cheese. 
Surf & Turf Tostadas are a delicious way to satisfy family and friends who prefer meat or fish.
Healthy Cod Tacos are lightly fried in a gluten free batter and served with mashed avocado, salsa, and cheese.
Spot Prawn Tostada Bites are a fan-favorite appetizer with homemade guacamole and crunchy tostada chips.   
6. Premier Catch Halibut Fish Tacos
Tried and true Halibut Fish Tacos- lightly battered and fried, topped with cabbage and salsa, and served in a warmed tortilla. 
7. Mango Halibut Ceviche Tostadas
Ceviche is a fresh and delicious spring staple. It's even better with a crunchy tostada and homemade mango salsa!
A healthier alternative to fried fish tacos, these air fryer fish tacos can be prepared in about 15 minutes and are full of flavor and healthy ingredients! 
Bonus recipe! Joci's Scratch Margarita: 
- 2 parts tequila (Casamigos is my fav)
- 1 part Cointreau
-1 part fresh lemon (yes 🍋) juice
Mix and shake well over ice. Use a good flake salt on the rim, pour over ice and enjoy!
Let us know which ones you try and if you have any other favorite fish taco or tostada recipes! Happy Cinco de Mayo!