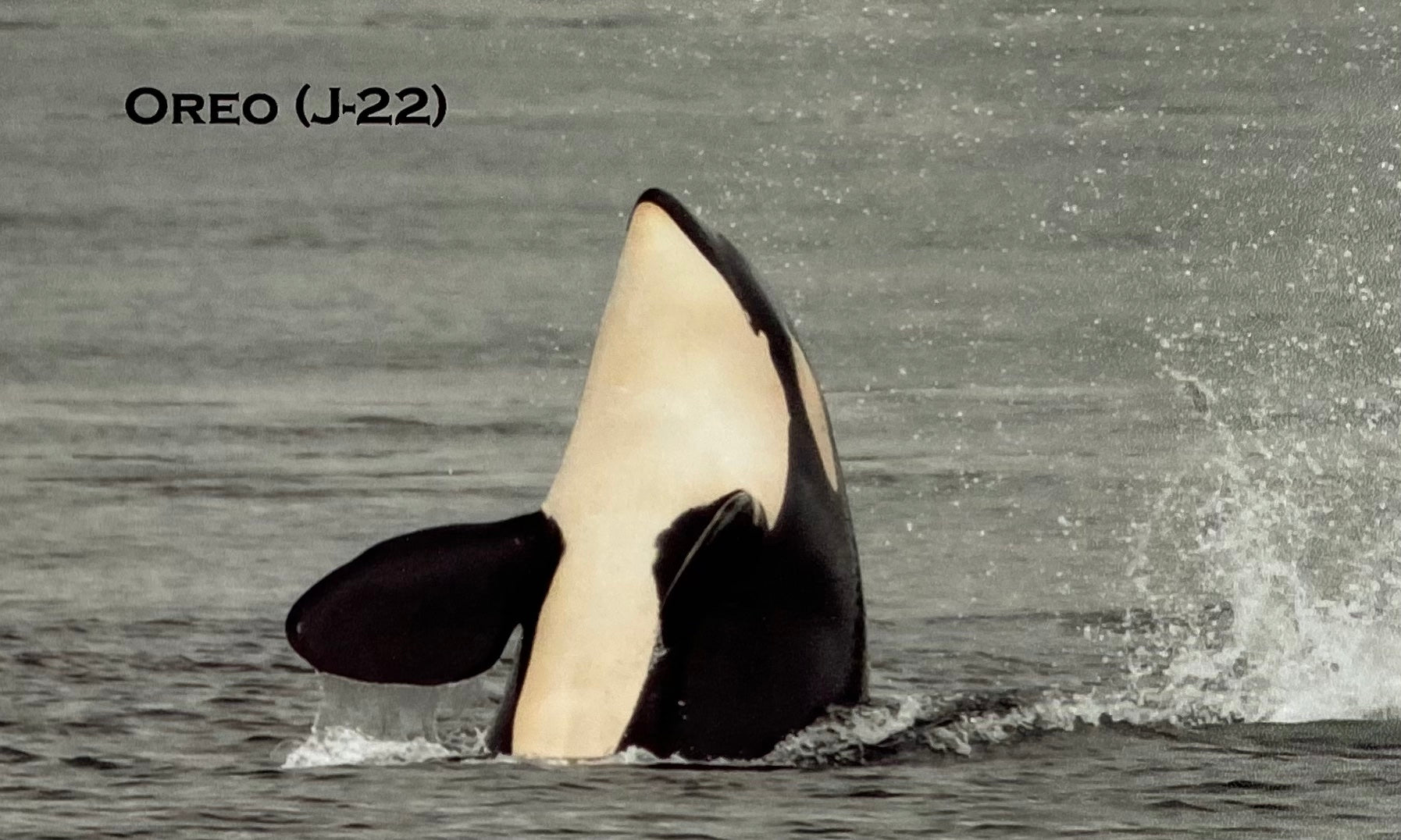 We have a very exciting announcement to make… Premier Catch has adopted an Orca whale!

Our beautiful female Orca, named Oreo, is a 36 year old mama of 2 (DoubleStuf and Cookie), and member of the J-Pod in the Southern Resident Community clan of Orcas. There are 3 extended family groups in this clan, called J, K, and L Pods. Oreo's alphanumeric tracking name is J-22.

Oreo's diet consists of a variety of fish, but her favorite is King Salmon! It is estimated that she needs about 25 King Salmon a day to keep her healthy. Due to the intensive monitoring of the Alaska and Washington Department of Fish and Wildlife biologists, our salmon (and other species) quota stocks are monitored per fish, and are capped when quota is met. This ensures that Oreo and her family and friends have enough King Salmon to go around. Eating wild Alaskan and Pacific Northwest seafood assures sustainability, as well as whale health and safety.

Oreo is a true leader in her clan (similar to Ashley and Joci!), helping other mama's give birth, comforting others, and being a headstrong navigator. Around 2000, shortly after her mother Tahoma passed, Oreo made a bold statement by changing the route in which her pod typically travelled north. Instead of going Boundary Pass, she slapped her tail until the rest of the pod followed her up Swanson Channel, arriving at the same location, via a different route. Now, most of the pods use the Swanson Channel as they go north toward the Fraser River. What a smart cookie!

In July of 2020 Oreo was spotted hanging out with her friend Eclipse, who was pregnant at the time. Oreo's distinct markings are a slightly shorter dorsal fin without any nicks on the trailing edge. Her white saddle patches sweep down her sides behind her dorsal fin and have a similar shape to a jumping dolphin!

If you are out and about in the Pacific Northwest, look out for Oreo! Be sure to report your whale sightings on the 24h Whale Sighting Hotline at 1(800)562-8832 to be sure we know what Oreo is up to!

Please join us in tracking Oreo, telling her story, and doing everything you can to support the health of our oceans and our marine life by eating wild, choosing seafood caught by sustainable methods, minimizing food waste and composting, recycling, and getting involved with your local community clean up efforts.

We are deeply dedicated to sustainable and environmentally conscious values and support these steps by partnering with conservation organizations such as Ocean Wise, Monterey Bay Aquarium's Seafood Watch, the Marine Stewardship Council and FishChoice. Purchasing Premier Catch seafood ensures you are supporting local, and eating sustainably caught and managed seafood.