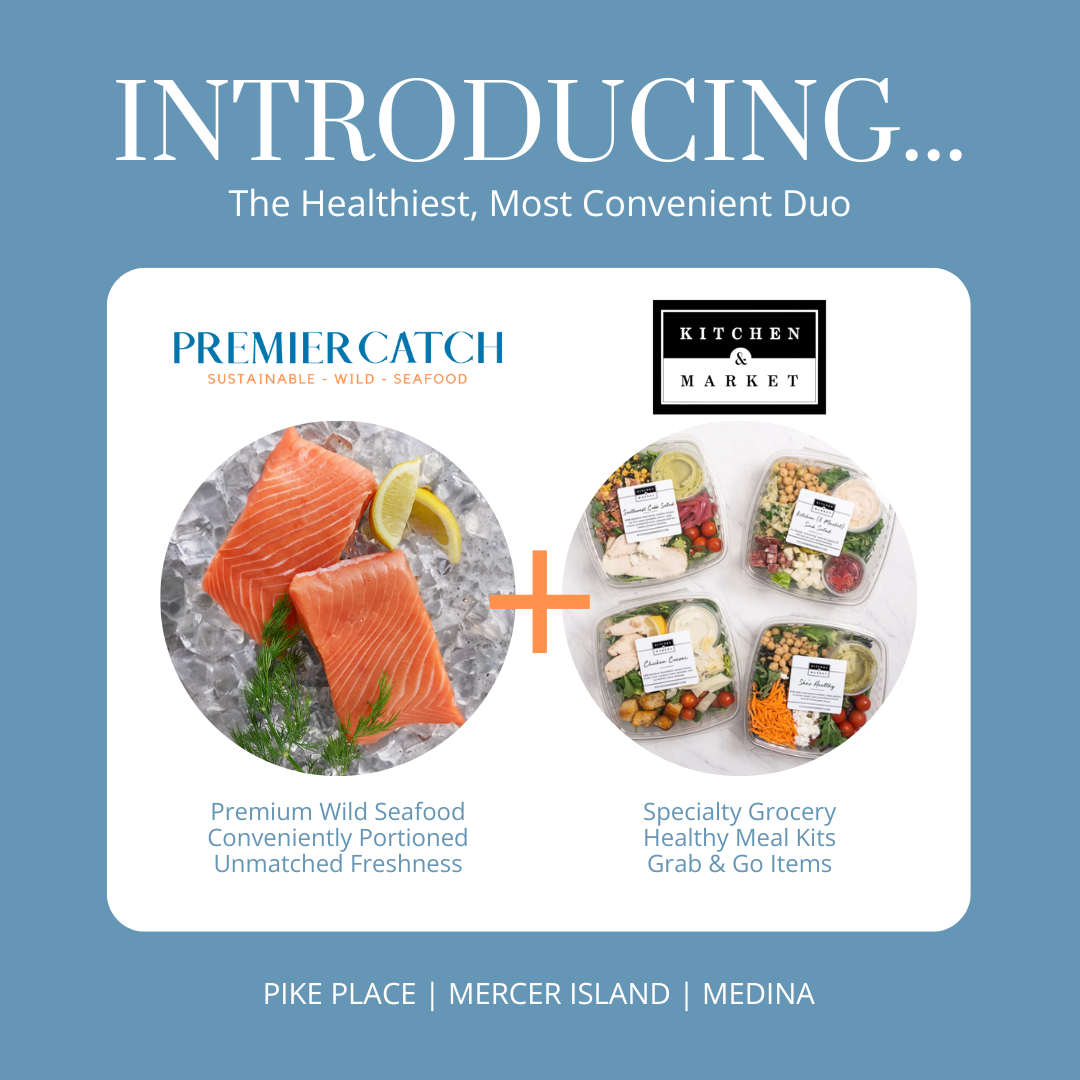 Uniting Tastes: Premier Catch and Kitchen and Market Collab for Healthy, Convenient Recipes
We are thrilled to share our recent partnership with Kitchen and Market, another female-founded, local PNW business!  Born in the pacific northwest, our new alliance prioritizes health and convenience, while capturing local flavors with sustainable sources, giving you quick and delicious recipes using Premier Catch seafood and Kitchen and Market groceries. 
Meet Premier Catch Wild Sustainable Seafood:
Founded in June of 2020, Premier Catch is proudly women-owned and family-operated in the Pacific Northwest by sisters-in-law, Joci and Ashley Besecker. They source premium, wild-caught seafood from Alaska and the Washington/Oregon coast.
Joci and Ashley have a deep-rooted connection to the seafood industry, having married into it. Their respective spouses, Jeff and Tyler Besecker, are the sons of the illustrious Dana and Jill Besecker, the founders of the Dana F. Besecker Company. Dana's vision and hard work transformed his one-man enterprise into a thriving global wholesaler and processor, supplying wild seafood to more than 54 countries.
As the Dana F. Besecker Company solely focused on wholesale dealings, Joci and Ashley saw an opportunity to make this exceptional resource available to consumers. Thus, Premier Catch was born. Regrettably, Dana passed away in 2022, but his legacy of honesty, transparency, and integrity lives on. Joci and Ashley take great pride in upholding his high standards and providing access to the premium wild seafood that his connections afford them.
Meet Kitchen and Market, Meal Kits and Grocery:
Complementing Premier Catch's dedication to sea-bound offerings is the brainchild of culinary enthusiast and entrepreneur Stephanie King. Stephanie's business idea for a highly curated, European-style market with restaurant-quality meal kits bubbled up around 2016, but it wasn't until the world fell into the throes of COVID that momentum really took hold. King, along with her daughter Hannah, began testing out her meal kits as part of area nonprofit fundraisers, and the recipes, culled from her tried-and-true favorites, were a hit.
She locked into the idea that shopping should be pleasant and focused, with a simplified-but-elevated product mix and meal kits versatile enough to scale or repurpose into great second (even third!) meals. In Nov. 2021, King opened her flagship Pike Place Market shop, followed by a location on her resident Mercer Island in Oct. 2022, and most recently opened Medina in March 2023. She often jokingly describes her store concept as "If Dean & Deluca and Trader Joe's made a Blue Apron baby."
You can find individual filets of Premier Catch Wild Alaska King Salmon, Wild Alaska Sockeye Salmon,  Wild Pacific Halibut, Wild Alaska Cod, and the famous Wild Alaska Smoked Salmon Dip at all three Kitchen and Market locations! 
Seafood-Forward, Healthy Recipes:
Premier Catch and Kitchen and Market have come together to celebrate flavor, convenience, and shared values. Premier Catch's wild sustainable seafood and Kitchen and Market Collab's curated ingredients align perfectly to create recipes that redefine the possibilities of healthful eating. Imagine Honey Harissa Glazed Salmon paired with Israeli Couscous Pilaf and Arugula or a delectable piece of Grilled Halibut with Kitchen and Market's Crisp Asian Slaw. 
As Premier Catch Wild Sustainable Seafood and Kitchen and Market continue to blend their passions, their shared recipes inspire us to embrace health, convenience, and the flavors that define the Pacific Northwest. 
Dive into our most recent recipes and let us know which one is your favorite! 
Let us know what you want to see next!