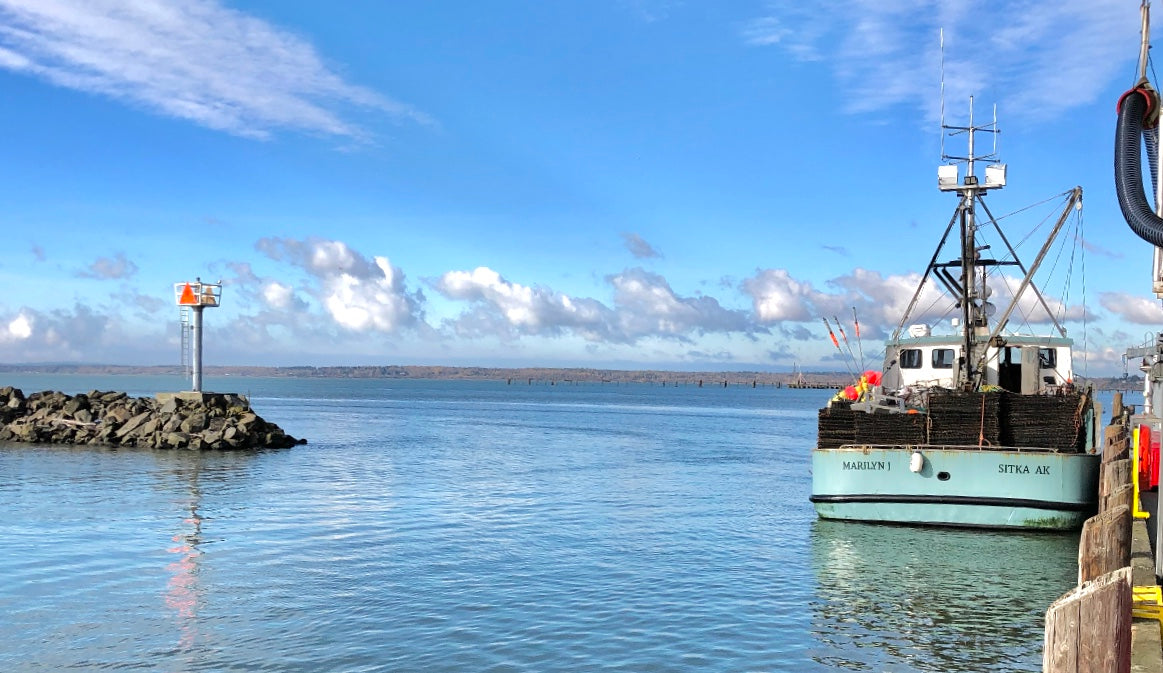 Our Commitment to Sustainability
At Premier Catch "sustainability" is not just a buzzword. We consider ourselves stewards of our ocean's wild seafood resource in Alaska and the Pacific Northwest. We are committed to supporting and ensuring that the fisheries, communities and businesses catch and produce our seafood in a way that promotes the long term well-being of wildlife, our environment, as well as the health of the people working within the industry, so that we can feed millions of people for years to come.

Our commitment to sustainability includes 3 major principles: Healthy Species, Healthy Families, & Healthy Planet.
Healthy Species

To ensure a long-term supply of seafood, fisheries need to continue improving their fishing practices and management policies to support seafood that is legal, sustainable, and traceable.
We are deeply dedicated to these values at Premier Catch and support these steps in many ways. These include collaborating with conservation organizations such as Ocean Wise, Monterey Bay Aquariums' Seafood Watch, the Marine Stewardship Council, and FishChoice. We also work closely with our suppliers and producers to obtain credible certifications in order to manage traceability.
We choose to sell only wild and sustainably caught seafood from the waters of Alaska and the Pacific Northwest. The Alaska, Washington, and Oregon fisheries management organizations are the best in the world and use a solid foundation of science, meticulous research, monitoring and management. In fact, the University of Washington School of Aquatic Fisheries and Sciences is frequently top ranked within this discipline, conducting groundbreaking research on topics pertinent to understanding and managing these marine environments.
Healthy Families

A "Healthy Family" represents individuals living a happy, long and healthy life in community with others, and having the financial ability to thrive and provide for each other. Physically, our bodies need healthy proteins, fatty acids, vitamins, minerals and other nutrients. We live in a world where much of the food that is easily accessible may be high in energy, but low in nutrition. Seafood is among the healthiest foods in the world. It provides a complete protein, rich in fatty acids, specifically omega-3 fatty acids, as well as trace minerals. Eating seafood twice a week can increase healthy fats in the blood, work towards preventing cardiovascular diseases and improve brain health.
A healthy body is incredibly important, but a healthy economy is too. We are committed to paying our fishing families well for their catch. Not only are they working tirelessly in a very labor intensive job, but they take time away from their families and take huge risks being out in the open ocean in high seas and potentially dangerous weather. Our fishing families deserve so much respect and deserve to be well paid.
Healthy Planet

A "Healthy Planet" means respecting our oceans. Our ocean feeds billions of people and provides 80% of the world's biodiversity. The way that seafood is harvested can have a huge impact on the natural habitat. We choose to provide wild seafood, caught using sustainable fishing methods only. Seafood is one of the last remaining truly "wild" foods, and if managed properly, it can continue to feed our world indefinitely. The marine ecosystem is delicate and intertwined with other wildlife and habitats even out of the waters.

We donate and support many environmental organizations throughout the world including The World Wildlife Fund, The Monterey Bay Aquarium, Ocean Wise, The Seafood Nutrition Partnership and the Whale Museum.

We have adopted an Orca Whale named "Oreo" who is a 36 year old female and a part of the J-Pod of Southern Resident Orcas in the Pacific Northwest. She birthed two babies, named DoubleStuf and Cookie, and thrives among her J-Pod family traveling up and down the waters of the San Juan Islands, Washington Coast and into British Columbia. Bringing attention to the needs of the whales, dolphins, birds, and other wildlife sharing the ocean with our fish is important and brings a sense of love and appreciation that trickles all the way down to our plates.