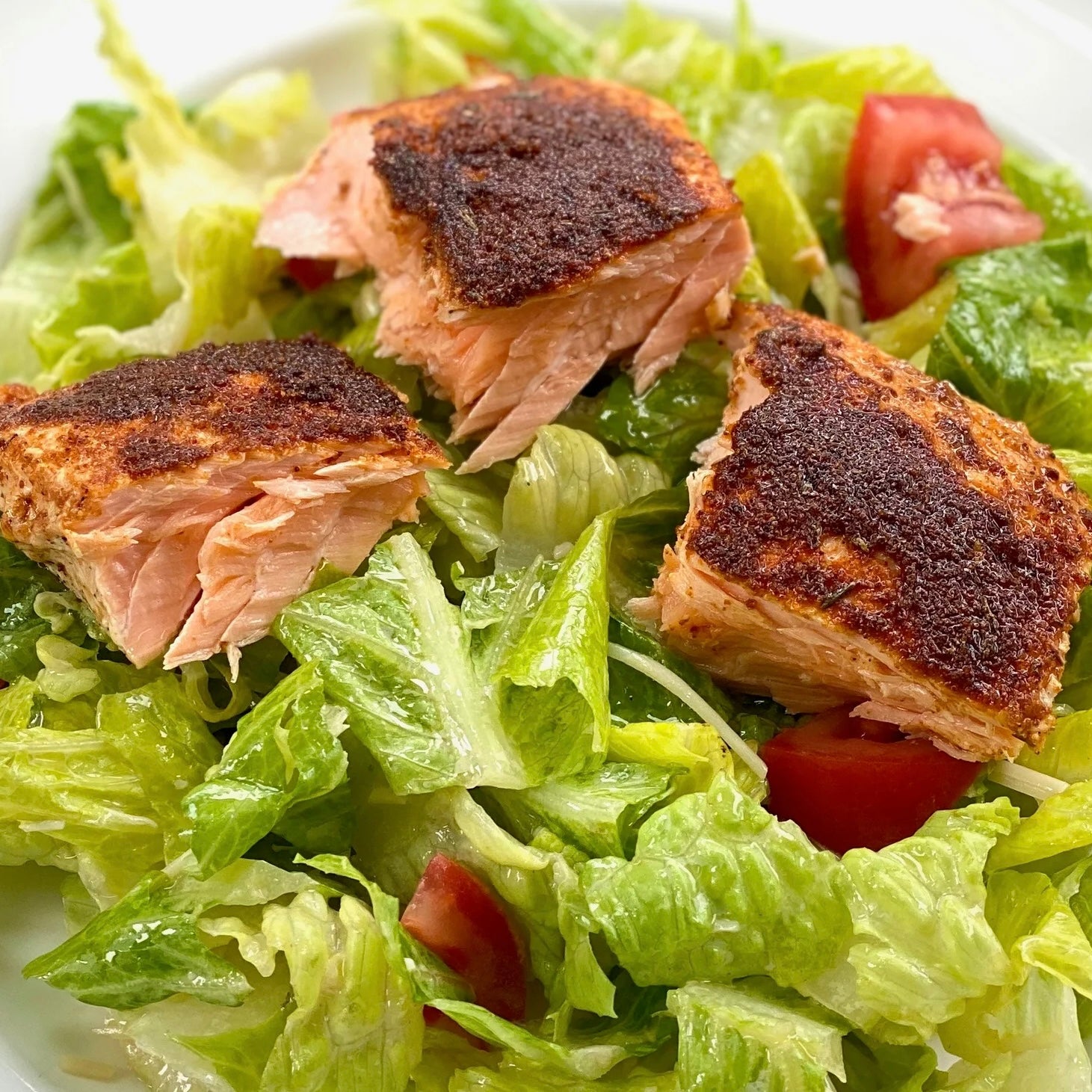 Grilled Seafood Caesar Salad: A Fresh and Flavorful Summer Entree
As summer approaches, it's time to start thinking about light, high-protein meals to fuel your busy days and favorite summer activities! 
One dish that is perfect for a hot summer day is a caesar salad with grilled salmon. This recipe is not only healthy and delicious but it is quick and easy to make! 
For this recipe, you need Wild Alaska Sockeye or King Salmon, olive oil, and cumin, paprika, cayenne, garlic powder, onion powder, dried thyme, salt and pepper to create a rub. You can pan sear, bake, grill, or air fry the salmon depending on what is easiest for you. 
To make this, start by mixing all of the rub ingredients in a bowl and setting it aside. Preheat your grill to medium-high heat. While the grill is heating up, brush the salmon lightly with olive oil and top with the rub, giving it a nice coat. Grill the salmon, skin side up, for 3 minutes, and then flip it, and grill for another 3-4 minutes. The salmon will continue to cook after it is removed from the heat. 
While the salmon cooks, make our homemade caesar dressing to take this salad to the next level! For the dressing you will need olive oil, mayonnaise, red wine vinegar, worcestershire sauce, juice of 1 lemon, and one clove of garlic. 
To prepare the salad, start by washing and chopping romaine lettuce and tossing it with the dressing. Add cherry tomatoes, parmesan cheese, and croutons if desired. Add the warm salmon on top of the salmon or serve it cold the following day! 
This salad makes a delicious dinner or lunch. It is a great recipe to bring to dinner parties, barbecues, or to simply enjoy at home.